| | |
| --- | --- |
| Hazmat Storage Buildings | |
Our Hazmat Storage Buildings can store far more, less expensively and more efficiently than any others.
These buildings were designed for hazmat storage and to be a Palletized Modular Hazmat Storage System.
No Need for Manual Loading of 700 Ib. Drums.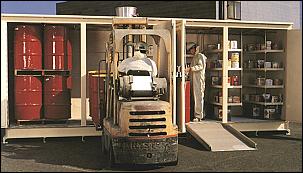 Model 20, for outside storage. Four doors.
Space-saver Modular Designs
Provide twice the space of traditional free-standing buildings. They allow double stacking of larger containers (such as 55-gallon drums) or storing of smaller containers on seismic secondary containment shelving.
Our standard lockers with the 5'6"depth and the 56" x 86" LxH pallet wide doors (1 door every 5') are designed for forklift loading and are F.M. approved for double stacking of 55 gallon drums.
Generation Development of the Modular Design
First came the overseas containers (ISO, Cargo Sea Trains, etc.). Their designs required hand movement of drums.
Then came hazardous materials storage buildings based on the same designs but with two or three doors added. However, they required the same hand movement of drums.
Better than Building Your Own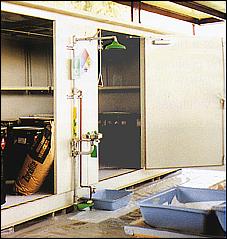 Portable hazmat storage buildings have great advantages over permanent installations. They can be relocated if desired. In most cases, they do not require building permits to install.* Because they are prefabricated, they are less expensive than building from the
ground up. General contractors may not be aware of the many code requirements for hazmat storage, creating delays in construction.
*Local jurisdiction has final authority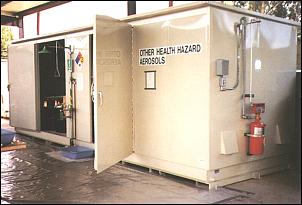 ECP has designed and constructed household hazardous waste accumulation facilities for numerous cities and counties thru-out the U.S.
Let E.C.P. develop and design your household hazardous waste facilities.
FM approved one to four hour non-combustible fire rated construction available.
---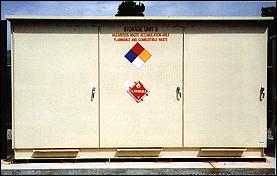 Model 15B. Three door. Outside storage locker.

Model 10XR. Two door. For storage and dispensing.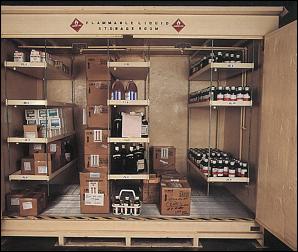 Model 10TDXR. Two door inside seismic storage with
secondary containment shelving. Temperature controlled, four hour fire rated and explosion relief.
In short, our hazmat storage buildings are user friendly, more economical than any others on the market today and provide for more efficient handling of hazardous materials.
---
GSA Contract
GS28F0020J

Environmental Compliance Products

8907 Warner Ave., Suite 122
Huntington Beach, CA 92647
Toll Free: (800) 643-7065
Phone: (714) 847-4474
Fax: (714) 847-7554
Email: sales@hazmat77.com